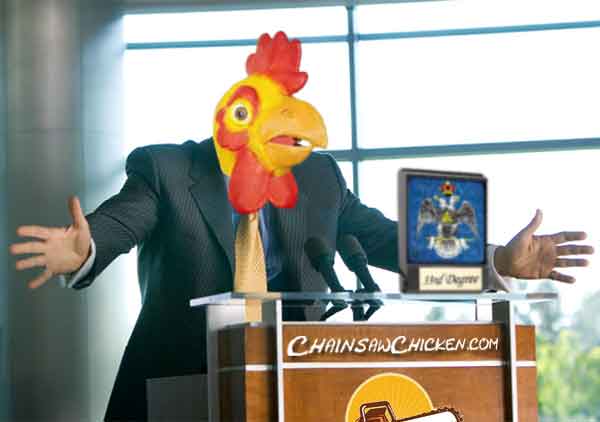 In a surprise ceremony at Chainsaw Chicken International, Ltd, Chainsaw was so astonish to learn that he had been awarded the honors of a 33rd Degree Freemason of the Scottish Rite.
With that, comes membership in the Illuminati as well as New World Order using Build Back Better.
Who would have known that the lunch meeting at Bohemian Grove would lead to a weekend at Deer Island with the Skull and Bones Society.
"There I was, sitting with Sir Evelyn de Rothschild, Klaus Schwab, George Soros
and his son, Alexander Soros. We were sharing a plate of vegan nachos discussing world control", recalled Chainsaw as he reflected on his announcement.
"Things started accelerating from there. Contracts began to show up from many third-world counties spending their World Bank funds. Then, this 33rd Degree Honor was bestowed."
Besides the title and honorary plaque, Chainsaw was provided access to many International forums like Davos, the World Economic Forum, Bilderberg and so much more.
One thing that was reviled was that a secret gift was given to each new 33rd Freemason recipient.
Henry Ford was secretly given George Washington's actual wooden teeth for his gift.
Yassar Arafat, leader of the PLO, was given the hat worn by Napoleon Bonaparte when he was exiled to the island of Saint Helena.
FBI founder and leader, J. Edgar Hoover, received Jimmy Hoffa's wrist watch.
What did Chainsaw receive? He was given the keys to the 1968 Oldsmobile Delta 88 Sedan Edward Kennedy drove off the bridge at Chappaquiddick.