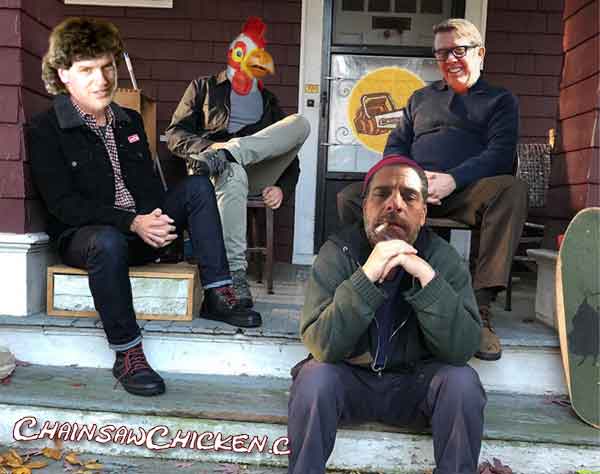 If you've been around a few years, you've heard of them. The D.C. Badboys.
Chainsaw assembled this group on his porch one day to reminisce.
Now lay back, close your eyes and think of these infamous personalities.
We've all heard of President Biden's troublesome son, Hunter Biden. His antics keep Joe in a dither, that is, when he can actually remember family members. Hunter's wayward laptops (yes, there is more than one out there lost to him) containing so much incriminating information/documentation not only involving him, but more importantly the 'Big Guy".
And then there's good ol' Roger Clinton. A frustrated musician, actor and voice talent. Once he climbed that mountain of cocaine flown into Mena, Arkansas, he was also investigated by Congressional officials over claims that he may have been paid to help secure pardons for other convicted criminals through his brother, President Bill Clinton.
Roger also landed in hot water in 2015 during his sister-in-law Hillary Clinton's failed presidential run, when it emerged that he had used his brother's name to win a $100,000 consulting contract with a company looking to build houses in Haiti following the devastating 2010 earthquake.
One of the least known of the D.C. Badboys on my porch is Billy Carter. Brother of President Jimmy Carter. When the National Spotlight was focused on the Carter's, the writing was on the wall when Billy as quoted as saying, "My mother went into the Peace Corps when she was sixty-eight. My one sister is a motorcycle freak, my other sister is a Holy Roller evangelist and my brother is running for president. I'm the only sane one in the family."
Then, he went to work promoting  Libya (where the leader Muammar Gaddafi was a major terrorist in the world). Billy commented in defense saying "The only thing I can say is there is a hell of a lot more Arabians than there is Jews". Brother Jimmy wore out the knees on his favorite jeans cuz of that one.
Let's all crack open a can of Billy Beer and join Archie Bunker singing with wife Edith, "… those were the days".