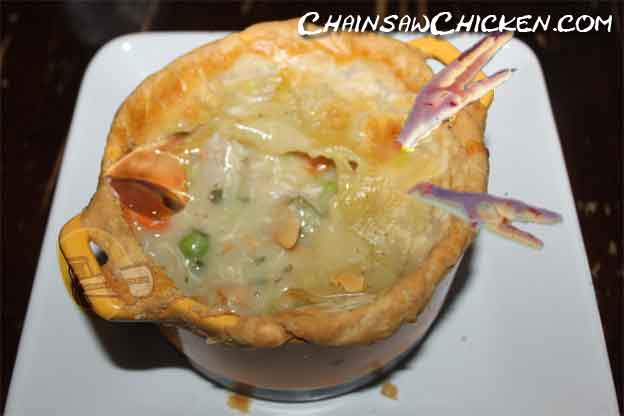 The investigation into the series of missing members of Chainsaw Chicken's family had a break though moment when Gordon Ramsay's low rated show "Uncommon Dishes" showed a recipe for an authentic Chicken Pot Pie.
"We've been loosing 8 to 12 young and vibrant chickens each evening with no clues as to what has been happening" stated the Chief of Police. "One minute they are there be-bopping down the street or riding their skateboards and then the next minute there's just a few stray feathers. We considered alien abduction. Contacting the local military base to see if there have been any UFO's sighted, but no luck. Out of nowhere, this episode aired and we suddenly realized that we had our suspect".
The medical examiner has indicated that identification will be limited and unreliable as to the condition of the remains. "That combination of butter and chili powder creates real havoc on the individual characteristics of each unfortunate individual involved".
Ramsay was mostly quiet when interrogated except of the occasional outburst such as "You bloody bastards" and "get the HELL out of my kitchen".