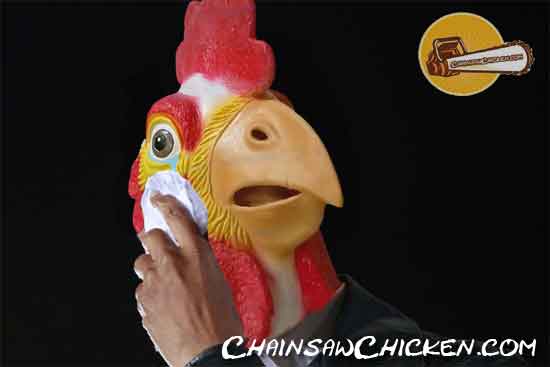 Hello everyone. I'm Chainsaw Chicken. Thank you all for tuning in and connecting to this message. It is my hope that the tens of thousands of you that see this message will understand and appreciate this open apology I wish to make.
Everyone here at Chainsaw Chicken International, Ltd, all the IT people, the advertising staff, the development people, the administrative staff, make-up and costume artists, the publicists, the executive staff all the way down to the janitorial people all believe that we are emerging into a new cultural and sociological awakening here as well as through out the country and the world.
The upper management and especially myself have wondered how we might better join in this brave new world of wokeness and awareness to better exemplify, and more importantly apply these concerns to Chainsaw Chicken International, Ltd.
We took a long look at past postings and realized a fact we had not been aware of. This fact was later brought to our attention after complaints to the HR department. It became obvious that we needed to change things.
We brought in outside advisors and their conclusions matched what others have pointed out. Here now are the results of the study.
We learned that 87% of the sarcasm and 67% of the cynicism of our web site is directed directly or indirectly towards yellow and white chickens. This is a raising trend with an increase of 15% over last year.
We here at Chainsaw Chicken International, Ltd are simple ashamed of this trend. The way that we have not opened our observations to chickens of other colors.
From this point forward, (tears beginning to flow)… 'sniff'… With our apologies, we will be directly applying our observations with an emphasis on remembering to include all breeds, not just yellow and white chickens.
It is our thoughts that this will make our reader more comfortable with what we say and show. Additionally, we believe this will also hopefully keep the left leaning liberals and their warriors in Antifa from attacking our business offices.
We will make every attempt not to exclude other lessor breeds, genders, broods, color patterns and sizes. Roosters or hens.
Thank you, my fellow readers.