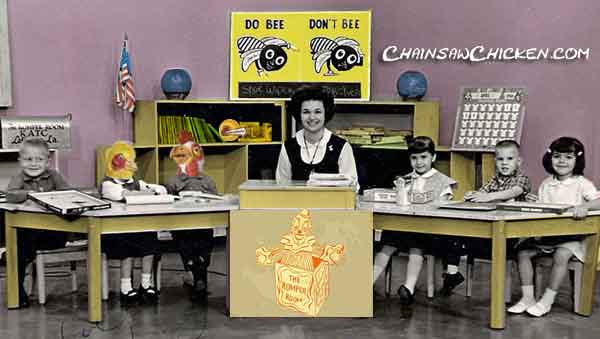 I always thought Miss Nancy never 'smacked wise' to my Romper Room Romance. I was a crafty devil with little Sara Leghorn. She was my very first, real life girlfriend.
Our days on Romper Room went by with just a wiz of time. She sit there all pretty and calm. I would keep turning my head to look at her to see if she was looking at me and if she wasn't, why not?
Once in a while Miss Nancy would pull me aside during the commercials and tell me "If I don't pay attention to the teacher and the camera and stop starring at Sara Leghorn, my name would be added under the 'Don't Bee' list".
Sara and I appeared on Romper Room from time to time for the next two years. We later dated in high school. She ran away with her gym teacher in her junior year. She was their babysitter. It was quite a stirring story and ABC  made a 'Movie of the Week' about it once he was apprehended and she sold her rights to the story.
To think, if she had paid more attention to me back in "The Room" as we later called it, she might of finished high school and gone on to be a nail artist or selling cosmetics at the department store in the mall.