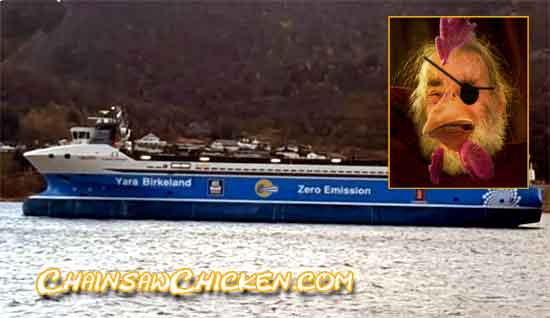 News arrived that great Uncle Henry Morgan Chicken has been selected to skipper the first, all electric cargo ship.
When asked about this privilege, Captain Henry simply said "Arrrrrr, Supposed to be a great honorrrrr!" his Nantucket accent in full display.
The interview continued, "So how long have you been a ships captain?
Henry answered " I prefer the term 'buccaneer', ye matte!",  he said. He continued, "This isn't much of a command. Being totally self-contained and crewless.  All I do is run around the poop deck, watchin' for hostel raiders and likely ships of prey to lay seige. Avast me, there not be a cannon nor swivel gun aboard this entire vessel. I don't even handle the ship's wheel. Thar be computers everywhere!"
"Since it's an all electric ship, are there many changes from a conventional cargo ship?" asked another reporter.
"Aye, There be some. Beions she runs on batteries, most of my time is filled with changing the 9 volt Duracell's, so the ship's hold is mostly stowed with replacement battery stores. Hardly any room for cargo. I just run around changing batteries to keep us goin'. I guess I have the Green New Deal and A.O.C. to thank for that!  And there'd be no ale or evena mug of grog aboard! Arrrr!"
He added, "Don't that just shiver ye timbers?  Where'd my parrot get to?"