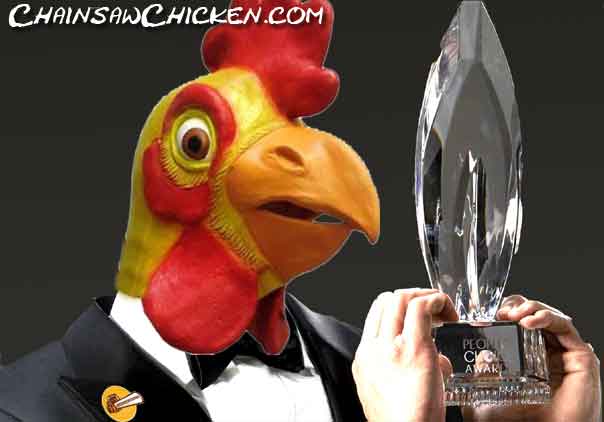 With the lowest viewership ever recorded, it's a safe bet to assume that you didn't see I won my People's Choice Award tonight.
As I entered the lobby walking to the auditorium, there were no media hosts or even fans trying to get a snapshot. No interviews or even a question shouted. If fact, I was stopped multiple times by security thinking that I was simply a crazed fan of some of the other well-known celebrities. It was so bad, I started carrying my invitation in my hand to flash just as security was going to body slam me off the red carpet.
I was seated at a table all the way in the back. I was not allowed a plus-one status so I was unaccompanied. I was seated with the guy that was the first zombie killed on "The Walking Dead" and the kid on the attempted relaunch of "Lost in Space".  Real big hitters. There was an empty chair that had a name place in front of it that said "Jussie Smollett" but I guess he's a little tied up.
I sat there and watched and listened to winner after winner for so many inane categories. All of a sudden, the announcer stated "Winner of the category of The Most Bingeworthy Web Site of 2020″. The People's Choice is…  Adventures of Chainsaw Chicken at ChainsawChicken.com".
A bright light finally located me at the back table, my mouth unexpectedly full of a bread sticks and cheap Champaign. I wiped off my face and made my way to the stage. They handed me the envelope card saying I was the winner and presented me the large glass trophy. I glanced at the card and informed them that there was not two "N's" in my name. The exit music started and some 6 and half foot tall model escorted me off the stage.
Because the after party had many of the same people I had included in some of my posts, it was a quiet, lonely time. I wondered from table to table looking for items owned by big name stars that I could sell on Ebay. Not much made itself available. I did get a used tissue from Angelina Jolie who teared up some because she was not recognized for her role in "Eternals". Won't get much for that.
I will always treasure this moment along with the award for weeks.