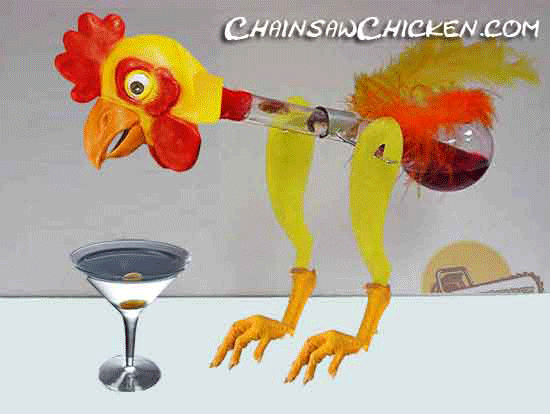 If you remember Black and White television, the Beatles visiting New York City or 'Leave it to Beaver' on TV, you probably remember the Dipping Bird.
Now, back by popular demand, Ronco with K-tel records and Chainsaw Chicken International, Ltd is offering a commemorative tribute replica for sale.
Granted, we've made a few changes. Most notably the head looking around randomly. Additionally this bird dips perfectly well into an extra dry vodka Martini with at least two olives without a toothpick.
When the dipping bird scoops up an olive, a special alert sound is emitted. Please note: It will not work with a Gibson in place of a Martini. The onions will not be retrieved.
To get one, simply send a money order in the amount of $49.99 to Chainsaw Chicken International, Ltd