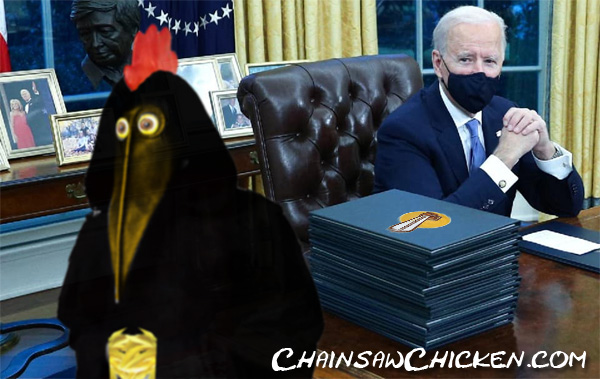 An accidental image was captured on a closed circuit secure broadcast to other figure-heads and supposed leaders within the New World Order. There, to those who were able to see the secret image witness, was the answer that so many people who ask the question. "Who is really pulling the strings behind Biden"?
When the President says "I am supposed to call on these names of reporters on this card for questions", you now know who put them on the list.
When Biden says "I'm going to get in trouble if I stay up here", you now know who takes his pudding away.
When his staff cuts his microphone so he can't take questions, you know who gives that order.
It's someone none of us even knew existed. He's called 'DARTH CHICKEN'! But who is he?
Those in the intelligence community think that he is someone in disguise. The name George Soros ("it was happy times" in WWII) is always suggested.
My vote is that there was some kind of electrical mishap in the transporter. Creating a Good Chicken (Chainsaw) that had his alter ego split off and create this evil bird. Kind of a 'Good Kirk, Bad Kirk'.
Time will tell, but now we know just who pulls the strings out of Biden's neck and where his choppy answers are commanded to spill out, like a 'Chatty Cathy'