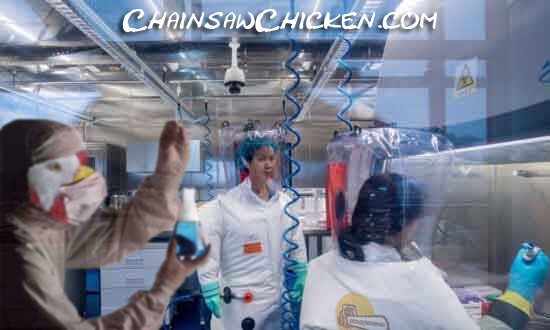 Guest scientist Fauci Chicken has been working non-stop for months at the Wuhan Labs, in order to try to avoid the similarities of the issues with Merek's Disease and Covid-19.
Here is what Wikipediphile says about Merek's Disease in chickens:
(look for yourself under 'Prevention' at the link below)
"Because vaccination does not prevent infection with the virus, Marek's is still transmissible from vaccinated flocks to other birds, including the wild bird population. The disease would cause mild paralysis, with the only identifiable lesions being in neural tissue. Mortality of chickens infected with Marek's disease was quite low. Current strains of Marek virus, decades after the first vaccine was introduced, cause lymphoma formation throughout the chicken's body and mortality rates have reached 100% in unvaccinated chickens. The Marek's disease vaccine is a "leaky vaccine", which means that only the symptoms of the disease are prevented. Infection of the host and the transmission of the virus are not inhibited by the vaccine. This contrasts with most other vaccines, where infection of the host is prevented."
Professor Doctor Fauci Chicken announced his discovery recently that "Humans are not chickens and are unaffected, accept those humans that dress like a chicken. It's science".
Where's Bill Gates when we need 'em? Oh yeah, he's on the side of being vaccinated.